Thu, November 29 2007
Filed under: Fun stuff •
Why buy a toxic Bob the Builder this holiday when you give the gift that not only does no harm - it does good.
The Good Card is a gift card for charity – where the recipient gets to donate to their charity of choice. That includes ANY charity with registration in the US – up to 1.7 million. Customers, clients, employees, friends and family all have their favorite charities and now you can give them the perfect gift – a donation to their favorite charity via Network for Good's secure giving system. That includes the charity fighting a disease that's touched their family, their alma mater—or even your organization!
And yes, I work for Network for Good, so this is product placement.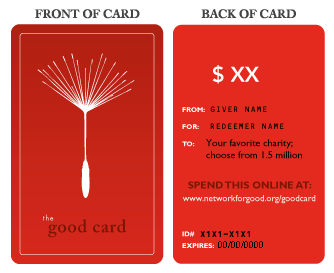 How it Works
§ At www.networkforgood.org/goodcard, you can buy a card to be mailed or choose an electronic gift card to be sent
§ Your recipient receives the cards via mail or email (or you can send it to yourself if you want to give it in person!)
§ The Good Card recipient comes to Network for Good's website, chooses a charity and then enters the amount to donate using the code on their Good Card/email
§ Network for Good sends the charities the donation
§ Cost per card is $5. 100% of the card value goes direct to charity.