Fri, July 29 2011
Filed under: Writing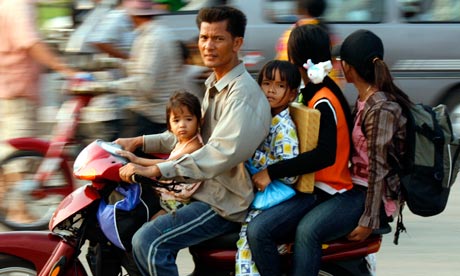 Photo from the Guardian Weekly. This is classic Phnom Penh.
Once upon a time, I lived in Africa and Asia, and that's where I had the hardest, best job I've ever had. I was a foreign correspondent filing several stories a day, nearly every day, about an entire country. (Like this from Madagascar and this from Cambodia.) It was fascinating and challenging to try to grasp the raw essence of what was happening – and to make it accessible, relevant and irresistible to readers around the world. I didn't always succeed. In fact, I'm sure I often failed. But the attempts were among the most rewarding and instructive experiences of my life.
Because I'm still a foreign correspondent. And you are too.
Let me explain.
I always liked that word - correspondent - because it made my job less terrifying and impossible. That was a good thing, because much of the time I felt a fraud in a foreign land. But the comfortable word correspondent implied the art of journalism was akin to writing letters home. And I believe that to be true. At its heart, the job is the act of creating a personal and absorbing account of something close to you – and making someone else feel they are close, too. Even though they are miles away.
Isn't that the job we all have right now? You are working for a cause, and it's not as intimately familiar to others as it is to you. You might even say it's foreign territory. You have to find a way to correspond with others about its essence. You must capture a complex reality in simple stories that speak volumes and move souls. You are translator, writer and guide, all rolled into one.
That means the best advice for foreign correspondents is good advice for you. Here are some of my favorites.
"The newest computer can merely compound, at speed, the oldest problem in the relations between human beings, and in the end the communicator will be confronted with the old problem, of what to say and how to say it." -Edward R. Murrow
"You never monkey with the truth." -Ben Bradlee
"A news story should be like a mini skirt on a pretty woman. Long enough to cover the subject but short enough to be interesting." – anonymous editor in Texas
Be a foreign correspondent: human, truthful and short-and-sweet.
Comments