At Network for Good, we generate lots of great, free content.
For today's post, I wanted to highlight a great resource: our library of free ebooks for fundraisers. You can view and download the guides here. Learn about everything from mobile to social media to fundraising to behavior economics.
Enjoy!
This week, I published a personal post on my LinkedIn blog. I thought I'd share it here. I was asked by LinkedIn to post on the theme of "my best career mistake." You can view the original post here. I welcome your reactions and thoughts.
Eight years ago, I found myself scraping the tops off store-bought cupcakes in my kitchen at one in the morning. I was replacing the obviously baker-applied icing with hand-applied frosting so the cupcakes would look passably homemade when I brought them to my daughter's school the next day to celebrate her birthday.
What would possess me to do such a bizarre thing? Shame. Or, to put it more fully, it was the mistake of trying to do it all well - and the fear of facing in myself that I could not.
Back then the icing switch-up seemed a better idea than turning up at school with obviously store-bought birthday cupcakes. After all, the school staff had made clear that home-made snacks were strongly preferred, and every other mother seemed capable of bringing lovingly hand-prepared, organic treats on birthdays. But I'd worked late that night, so the best I could do was cosmetic surgery on baked goods. My daughter didn't care. A cupcake was a cupcake in her view, and we were going to bake a cake together that weekend when we celebrated as family. I was the one who cared. I was afraid of being The Bad Mom. Just as I feared being The Bad Worker when I was late to work because of school activities.
It wasn't about what other people thought that was the problem. It was what I thought of myself.
Fast forward to last month, when I was on a panel discussing Women in Leadership. Every woman alongside me publicly admitted the same fleeting fears - and the same feelings of failure and fraudulence in their lives and careers. We know we can't do it all, but that doesn't stop us from feeling bad about that fact on any given day. It was an enormous relief to admit this - and talk about how we handle it.
This theme arises in Sheryl Sandberg's Lean In and hearing it from someone that accomplished was another revelation for me. I'm glad she admits her own similar moments - and irritated by dismissal of how important this admission is. I've read many negative reviews of the book. Most boil down to one or all of these statements:
- Shut up, Sheryl: This book is a solution in search of a problem, or it addresses the wrong problem. Women aren't holding themselves back in the ways you say.
- Mind your own business, Sheryl: You shouldn't be telling other women how to lean in.
- Easy for you to say, Sheryl: You are privileged and so leaning in works for you (you have lots of help). It won't for the rest of us.
I'm distressed by these reactions because many of them miss the point and make quite clear the critics haven't read the whole book. And because fear of this kind of judgment of a life is exactly what drove me into the kitchen to fake my cupcakes.
I feel it's time for us to discuss, honor and learn from however we struggle or succeed - whether it's from someone who has made it big or is making it day by day. To me, this is a major point of the book and the very purpose of this post. Having these conversations, openly, is good for everyone.
Sandberg writes,
"We all want the same thing: to feel comfortable with our choices and to feel validated by those around us. So let's start by validating one another. Mothers who work outside the home should regard women who work inside the home as real workers. And mothers who work inside the home should be equally respectful of those choosing another option."
In addition to calling a truce in the gender wars, we should also find a peace with ourselves. By overcoming our own insecurities regarding our own paths, we can focus on something bigger and better: how all of us - men and women - can better support each other's growth. We should find ourselves in fewer hidden cupcake moments and instead in more soul-searching, constructive reflection. As Sandberg notes: "We need to talk and listen and debate and refute and instruct and learn and evolve."
I'll share my choice: to work outside the home and be a mother, however imperfectly. I try to lean in as well as to stop hiding that it's sometimes hard despite my relative fortune. So I'm fessing up about those silly fake cakes and sharing what I wish I'd known in the wee hours eight years ago: We all have paths to take, whoever we are, and those ways of living all have trade-offs. We gain, not lose, power by owning that imperfect reality, living it without shame and learning from whoever else is willing to share their experience.
To me, the real art of the lean-in is admitting the fear of falling short on my own path and pushing onward anyway. If I'd known it eight years ago, I would have showed up at school with plastic-encased, professionally frosted cupcakes in all their store-bought glory. And I would have known what mattered was that I was there, learning in to the experience of working motherhood and finding a way to be there to celebrate the most important of birthdays. After all, it doesn't get any better than that.

Image via the Traditional Fundraiser's Coloring Book
Because I've been posting a lot about the state of the fundraising field - and the critical role of boards in bettering it - I wanted to invite you to a free Network for Good webinar, Building a Strong Board for Fundraising Success. It's next Tuesday, April 30 at 1 p.m. Eastern. (If you can't make that time, register anyway, and we'll send you a recording after the event.)
Here's a description of what we have in store.
Nonprofits everywhere are challenged to engage board members to solicit support and donations but let's be real, that's a really hard thing to do! Arming your board with the right tools can make all the difference: clear understanding of the fundraising expectation, knowledge about your organization's cause and mission, and the confidence to pull-off "the ask."
Board "whisperer," Dick Walker, will join Network for Good for a Nonprofit 911 webinar to present resources and practices that will help you shape your board into a rockstar fundraising resource for your organization.
Be sure to tune in to this free event on Tuesday, April 30th at 1 p.m. Eastern; you don't want to miss this! Register now.

Awesome cartoon by Tom Fishburne, the Marketoonist
Just a quick reminder as you kick off your day—make sure what you're saying, sending or selling is worth sharing.
Boring doesn't get read. Boring doesn't get shared. Boring doesn't get funded.
That's why no one Tweets creamed corn.
What does get shared? Something surprising, remarkably good, remarkably bad, visually striking, funny, moving, helpful or personally relevant.
Try adding one of these elements - and a good story - to what you do today. It will be more likely to work - and to spread.
Over the past year, researchers Adrian Sargeant and Jen Shang have sought to answer the question, how can truly great fundraising flourish?
It's a timely question given that half of fundraisers want to quit - and a quarter of bosses said they fired their last fundraiser.
The report - commissioned by the firm Clayton Burnett Limited - is out, and I wanted to share the findings. (You can get the report and executive summary for free at the firm's website - just give a it a day or two for them to email it to you.)
One answer was that organizations with incredible growth in fundraising have achieved that with the right people. Successful organizations have strong fundraising managers who achieve desired change through a combination of will and personal humility. They "devote considerable attention to what they regard as the critical building blocks of success, namely building an exceptional team, structure(s) and culture."
I'm going to highlight here some of the ways high-performing organizations built their teams. For additional findings, check out the full report here.
1. The manager built or retooled the fundraising team members and focused on a few, small early wins. This led to "improvement in confidence and morale, which became self-sustaining as individuals began to recognize their own potential to succeed. Technical expertise on the part of team members was important, but so too was conscientiousness, a willingness to support others, and a propensity to engage in appropriate levels of risk-taking."
2. The researchers note this shift in culture addressed turnover woes. "After the right team had been built, none of the organizations we examined suffered from the high turnover rates that otherwise pervade our sector. Being a part of a successful team appears to engender high levels of loyalty and our all our leaders were personally invested in their teams. The loyalty thus cut both ways. It was also interesting to note that those who defined their team more broadly, to include external agency personnel also exhibited a high degree of loyalty to that agency. Some were maintaining relationships with suppliers that had existed for over a decade."
3. Once a strong team was in place, they focused on the big picture in the right ways. Says the report: "We also found evidence in goal setting, that our outstanding leaders aligned their organizational metrics with the longer term drivers of donor value. Their objectives were couched not in the short-term minutia that typically pervade our sector, but in the standards and behaviours they identified would add value for
supporters and thus pay-back in the longer term. Their appraisal and reward systems were similarly aligned, to focus team member ambitions on the things that mattered most to longer term growth."
That said, the researchers also emphasized the system in which these people work: "Great systems are often more important than great people. A well-designed system filled with ordinary but well-trained people can, according to academic research, consistently achieve well above average performance."
I wish we saw more of these approaches. What works at your organization? Which of these ideas resonate with you? Who are your people and what are your systems?
At the recent Nonprofit Technology Conference, I was asked about donor premiums - those return address labels, mugs, etc. given to people in exchange for making a donation.
From the research I've seen, premiums can work to boost giving in the short term but also create some problems long term, especially if the premiums are positioned as a quid pro quo for a gift and have limited resonance with the cause. (For more on the deleterious effects of premiums, read the Agitator.) So I'm not a huge fan, because the evidence suggests these trinkets crowd out a deeper, lasting and emotional connection with a cause.
So what approach might be better? The Agitator post has ideas. Here's another one, from Mercy Corps. This nonprofit chose to surprise donors with a gift tightly aligned with their cause, AFTER the donors gave. It was rooted in social, not market norms. The gift delighted donors without crowding out their emotional connection to Mercy Corps. It's an example of excellent cultivation.
Annalise Briggs shares the story: "I ordered handmade rams from a beneficiary in Kyrgyzstan named Batina. Batina struggled to feed and support her family, and so Mercy Corps gave her a microcredit loan that allowed her to turn her hobby of sewing into a small business. She can now support her family and send her children to school. I mail the notecard with her story and the below photo and one of the little rams she sews to monthly donors within the first 90 days to help with retention (no ask, no BRE). The response has been overwhelming! We have sustainers writing and calling us all the time to thank us for the wonderful gift. Below is just one of the emails we've received…
"Thank you for the little wool ram & note card about Batina. It has greatly personalized my sterile, monthly donation made through my credit card… and to remind me of why I'm making a monthly donation. The world just became a little smaller."
As you know, it's so important to connect supporters with the mission and this is so much better than any random premium or swag. It directly relates to the field work we are doing. With our mission of working in other countries around the world, this connection is even more critical."
This is a great example of what we should do far better in our sector - thank donors and give them a vivid sense of the impact they have on real lives.

Pictured: Batina and the ram she sewed. The photos are courtesy of Mercy Corps.

Photo via BigStockPhoto.
Are you stuck on replay? Do you do the same things, the same way, over and over? It's easy to have this happen, and it's honestly what I fear most.
"Replay" can be somewhat effective if you're sticking to what works well. The problem is it can also create an autopilot state of mind that dulls your senses to changes around you—like shifts in the political landscape, your donor base or constituencies—that require a new approach. It's one thing to identify best practices and build on what works - it's quite another to get too comfortable and call it in. Whole industries have fallen into habit only to be rendered irrelevant. You have to keep fine-tuning (or sometimes revolutionizing) what you do and how you do it.
The other problem with replay is it is reductionist. When you stick to the exact same approaches, you can't imagine another way. You become increasingly narrow in your thinking. You fail to learn. You start assuming there are no other options or different paths. So much for originality.
When I get stuck in replay, I've found four things that help. I thought I'd share them here.
1. Get another view into your organization. Call a donor and see how they're feeling about your organization. Go talk to someone in line at your shelter. Visit a front-lines staff member and ask them what's new or different these days. I get so many good ideas from our customer service and success teams, for example.
2. Sign up for blogs, e-newsletters or other media that track big trends. I read a lot on mobile technology, the payments industry, social media and start ups so I can think about how broader trends might disrupt my work in exciting or concerning ways.
3. Go have lunch with a really smart person who doesn't work at your organization. Ask them what they think of your company, organization or cause. Ask them how they faced challenges related to your own, in a different context. Brainstorm with them. I swear by this approach. Most of my ideas come from conversations with other people - rather than my own isolated mind.
4. Take an online course with a brilliant thinker. Via Coursera, I'm taking a course in behavioral economics at Duke (I'm way behind but enjoy the lectures nonetheless). A friend is taking a class in poetry. The possibilities are endless (and free). I also enjoy watching a TED talk. There's nothing like fresh ideas outside your frame of reference to stimulate your own thinking.
This is how I avoid recycling the past or replaying the present. What do you do?
A new study conducted by Good.Must.Grow has found consumers are apt to like and buy products from socially responsible companies - but they also question the claims of corporations who say they are committed to the greater good.
In the poll of 1,015 Americans, nearly a third of respondents claimed to have sought out socially responsible companies and a quarter said they avoided buying products from a company specifically because it wasn't socially responsible. A majority (60%) of the study participants said buying goods from socially responsible companies was important to them, though a good deal tended to trump that consideration.
That's good news for those of us pitching cause partnerships to companies. But it's important to bear in mind another finding: Consumers are skeptical too, and 63% only sometimes trust a company's claims that it is socially responsible.
It's important for nonprofits and companies to build trust with the right partnerships. Here's my advice:
1. Find the fit. Consumers are more likely to believe and embrace a company's cause-related efforts if they're reasonably aligned with their brand. For example, an athletic footwear brand is a better fit for anti-obesity sports programs than a fast food company. Seek out companies with values aligned with your nonprofit.
2. Show the money. Make sure your corporate partner practices complete and total transparency about the cause-related efforts. How many dollars went where, to what end? Help consumers see the resulting impact on real world problems.
3. Walk the talk. Choose a company that shows it's a good corporate citizen in how it treats its employees, customers, suppliers, etc. Cause-related efforts that are strictly advertising ploys will spark skepticism. Consumers can smell crass corporate self-interest a mile away.
The bottom line? Find the right partner so consumers will embrace the partnership.
It's the time of year when you're packaging up your annual reports for 2012. Before you move forward with the same approach as last year, it's worth asking:
-Who is the audience?
-What do you need to accomplish with this report?
-Should we question the old approach?
Here's a great example of what happens when you ask these questions:
The Children's Bureau report - which takes the form of an interactive report online and a poster in its direct mail form - combines accountability, storytelling and imagery in a wonderful way.
For inspiration, go here. And learn how they did it here.
What are you imagining for your annual report? Make sure it serves a purpose for someone in a way that matters.
I'm back from the Nonprofit Technology Conference. At one of my sessions, I talked about the importance of taking the vast problems we seek to address and the critical importance of translating them into a scale that is:
1.) Relatable
2.) Addressable and
3) Inspiring
When we fail to do this, we overwhelm people and create the impression their support won't make a dent in our social problem.
Here are examples of making this translation. At the conference, See3, YouTube, NTEN and Cisco announced these videos were among the winners of the 2013 DoGooder Video Awards. They take big, faraway issues and make them immediate to the kinds of people who are likely to take action for that cause. They stake a point of view with a clear audience. And they inspire action in a funny way. Enjoy.
If the thought of asking for a donation in person makes you sweat, Network for Good's next free webinar is for you.
Tune in Tuesday, April 16 at 1 p.m. Eastern to hear fundraising expert Jay Frost give nonprofits the insider scoop on garnering support via one of the most powerful methods—the in-person ask.
Join us and learn answers to the following:
How to ask for donations in a way that is comfortable for you
How to identify your unique asking strengths and best use them
Why asking for gifts doesn't have to be so scary!

Photo via Green America.
The Chronicle of Philanthropy has a fascinating interview with fundraising guru Penelope Burk, author of the upcoming Donor-Centered Leadership.
Turns out it's not just donors who grow weary of too many direct mail appeals and telemarketing calls. It's apparently a frequent reason fundraisers quit their jobs—the relentless pressure to bombard donors. They'd prefer to take the time to figure out which solicitations work, but they often aren't given the time or latitude to have a more thoughtful approach.
Over-solicitation, says Burk, is the most common reasons donors give for stopping their support of a charity. Instead donors want to know what's been done with their money. Then they'd be willing to give again. But too often, they get appeals instead of thanks and reports on impact.
No wonder we have 60% churn in our sector.
So what do we do instead? Here's Burk's advice.
1. Thank donors after they give.
2. Send them a follow up thanks with detailed information about how their money was used.
3. Only ask for money AFTER you do these two things, and when you do, be as specific as you can about why you are asking for money. What specific cause will benefit?
Great advice.
Do you agree? Do you feel this way?

(Snow-themed smartphone case from Zazzle)
I'm in chilly Minneapolis for the Nonprofit Technology Conference (NTC). On the theme of technology, I wanted to share this new overview of mobile from Business Insider. (Available here.) Take a look - it's a useful set of data that underlines the importance of your organization ensuing that people can read your emails and donate to your cause on their smartphones.
I spent the past year working with the Network for Good team on mobile, and this type of data prompted us to create a special mobile donation flow for our nonprofits on our DonateNow service. I'll be talking about that process - and my overall thoughts on mobile - with PayPal here at the NTC on Friday. I'm also be co-presenting on behavioral economics with Allan Burstyn on Thursday, as well as co-hosting the The 5th Annual Marketing and Fundraising Meet and Greet later that same day with Kivi Leroux Miller, Farra Trompeter, and Nancy Schwartz. You can also find me at the Science Fair, which I'll be kicking off Thursday afternoon. If you're here in snowy Minnesota, come say hi.
If you're not here, no fear. I'll share the highlights here on the blog. You can enjoy the updates from your (hopefully) warmer home base.
If you're familiar with marketing, you know the principle of a benefit exchange: a reward offered in return for taking an action. A benefit exchange answers the question: What's in it for me?
For example: If I buy Nikes, I'll feel like an athlete. If I go to your meeting, I'll get some face time with senior staff.
Benefit exchanges are useful for all kinds of situations. Like getting someone at work to agree to your proposal, encouraging people to change their habits or inspiring someone to donate to a cause.
But we often get the benefit exchange wrong. We don't offer a strong enough reward - or a sufficiently clear call to action.
So here's a mini-marketing refresh on strengthening the reward part of your benefit exchange. If you're trying to persuade someone to do something, think about sharpening the "what's in it for me?" answer with a better reward.
A compelling reward has five important attributes: It should be immediate, personal, reflective of your audience's values, better than competing rewards, and credible.
Immediate: The best rewards are available to our audience right away. Few of us take action based on a reward that we expect to receive in the far future. It is human nature to seek instant satisfaction over distant gratification. So think about what your call to action will do for someone in the short term. Eating a hamburger satisfies our hunger, drinking beer makes the ball game more fun, and wearing cologne makes us feel sexier. Donating to charity makes us feel we made a difference for one person, today. How can you show an immediate result may be possible?
Personal: The reward needs to make people feel their life will be better as individuals or within their tight circles of friends, family and community. Take the attributes of what you want people to do and sell them as benefits. What will recycling or sidewalks or education policy do for your audience? At the end of the day, the personal connection, not the grand concept, grabs our attention.
Grounded in audience values: We can't easily change what other people believe, but by plugging into their existing mind-set we unleash great power behind our message. Make sure the reward you are offering is something others seek - not just what you want. Those two things are rarely the same, but we often imagine they are!
Better than the competition: Think competitively about your reward. Is it better than what people get for doing nothing - or something else? Don't forget there's a reason people aren't taking action. They may be deriving benefits from those behaviors. How can you make your reward better than what people get from maintaining the status quo?
Credible: Last, you need to make sure the claim of your benefit is believable. People need to believe they can get the reward. Show other people gaining the promised benefit or telling a good story can bolster your case. Make the promise change credible.
If people aren't doing what you want, you may find out why by reviewing this list. Are you making your offer sufficiently irresistible? Or could you sweeten the reward in one of these areas? It's worth the effort to consider, because a great benefit exchange makes it far easier (and faster) to get to yes.
Resource Media has a fantastic and free guide to visual storytelling. It's a MUST read (see) for your cause.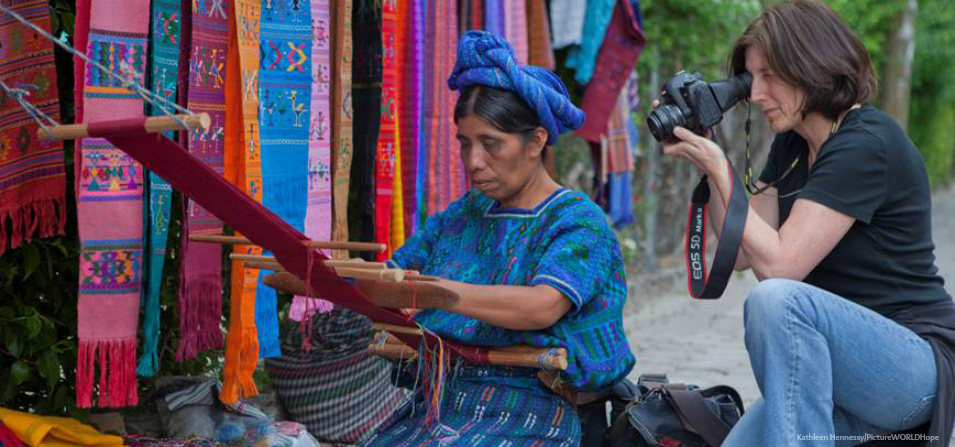 The guide has great tips like:
1. Always test visuals
2. Pair visuals with words to increase retention of your message
3. Shun bad stock photos
There are great examples, checklists and templates. Get the guide here.
(Thanks to Mark Rovner (read his blog) for tipping me off to the guide. I feel the way he does - I wish I'd written it myself!)