I got asked by Beth Kanter to post on this topic: "What if I could start all my social media and nonprofits work over from scratch? What would I do differently? What lessons have I learned that will stick with me for 2008?"
Having Beth Kanter asking me to post on social media is a little like Yo-Yo Ma asking me to play cello for him. Beth is THE maestro on nonprofits and social media (and she could probably accompany Yo-Yo Ma on flute). So read what she says first. Then read what Britt Bravo says. Britt, in addition to having The Name I Wish I Had, is also very wise on the social media front. Then you can read my list, which is below.
Four Things I Wish I'd Known from the Start about Social Media:
1. It's not that hard, and I should have gotten over the intimidation factor sooner. Not too long into my job here at Network for Good a few years ago, I kept hearing people reference Web 2.0. I remember, filled with fear of ridicule for my ignorance, asking people what it meant. I'm glad I did, because I realized a lot of people had trouble defining it and were grappling with its meaning just like me. Today, social media to me means the electronic manifestation of the human desire to be heard and seen and part of a community. It's using technology as a platform for personal expression and as a means to connect to others around things we care about. It's not hard to learn how to do that online - you don't need any real technology expertise (I'm living proof of that) as much as social skills - and it's a lot of fun making new friends which is the real point. No matter how much of a novice you deem yourself, you CAN explore social media and find ways to benefit from it. If you haven't, make 2008 the year you do.
2. It's about "social," not "media." As I said in this post, while social media seems oh-so-new, what makes it hot could not be more ancient or old-school. What's significant about social media is how it allows us to quickly and expansively fulfill our unending human need for connection. While I myself have fallen into the trap of focusing on my organization's need to do Facebook or Twitter or YouTube, that's not the point—what matters whether those are places to strengthen connections with my target audience. If my target audience isn't there, I'm not going there.
3. Social media cranks WOM up to 11. What excites me most about social media, now that I sort of get it, is its potent potential to amplify word of mouth. Good word of mouth for your good cause is invaluable. People listen to people they know, and if those people recommend something, they listen. If people make recommendations, that good word of mouth spreads faster and farther through their circles of influence. Social media enables people to evangelize in their own way, in their own words, where their peeps congregate. We're so underfunded and overworked in our sector - how great is it other people can help us spread the word so efficiently?
4. Think before you build something new, because we already have overdevelopment in social media. You could build (yet another) new social network. You could create yet another blog. You could make a new video. But if you're one of those underfunded and overworked people, think twice and first read my Four Laws of Social Networking. You may get further, faster by connecting to existing infrastructure than trying to create it.
When I'm asked about whether I think a marketing campaign is good, I always ask:
Who was the audience and what action was the campaign seeking to effect?
These are good questions to ask yourself before you launch any marketing effort. Is it well targeted? Will it resonate with the audience in question? Is it consistent with your brand? Will it get people to act in the way you want?
In other words, you'd better know
who
and
why
you're marketing before you jump to
how
to market something.
Some colleagues recently called my attention to two campaigns, and while they both have merits, I"m not sure they nailed the "who and why" before they leaped to the "how."
Here's the first, which was a PETA campaign that was eloquently blogged by CK. It's a website trashing the Olsen twins for wearing fur, providing interactive, bloody dress-up games, and a faux Full house video, which unfortunately is nearly as boring and unwatchable as the show.
So does trashing these celebrities make sense as a marketing strategy? It really depends on what PETA is trying to do. If they are trying to please their base, yes. It's a highly negative, on-the-attack, celebrity-shaming, attention-grabbing campaign that is completely aligned with PETA's brand and followers. If it's trying to get online media attention for PETA, it also makes sense because it's blogworthy. If it's trying to get the Olsens or other celebs to embrace PETA's cause and/or get new people to support PETA by writing to the Olsens or giving money, I doubt this will work. Going that negative will just estrange the mainstream, which includes people who like Mary Kate and Ashley or, if they don't, prefer to visit Perez than PETA for their Trollsen dose. Quite simply, the campaign encourages people to think of PETA as being "fringe," which I think is far less scary than being influential. So if the "who" is new audiences and the "what" is eschewing fur, I don't think it works.
On to a campaign that is the polar opposite of the Trollsens - it's a feel-good spot sent to me by a reader from Italy. Daniele writes:
I'm working for a campaign called superegali.org for the NGO Terre des Hommes Italia. It's a fundraising campaign for Perù, Ivory Coast and Zimbabwe to help kids of these countries. We made a viral video for this campaign where the protagonist is our mascot, a paper toy. The video is a spoof of Dove Onslaught.
(If you want to know what the Dove campaign is, I posted on there here.)
I thought the video was cute (especially if you're familiar with the cultural reference of the Dove campaign) for an audience of potential supporters in Italy - provided they know the Dove campaign. But the "why" was unclear. What does the ad want you to do? It seems to ask you to rethink the concept of superhero, but it's not clear what you're supposed to do as a result, or how cutting out superheroes helps kids. I think the campaign is interesting but has a perplexing (perhaps even absent) call to action. So I asked Daniele what was the "why" of the campaign. She responded the purpose was to spread the word about their work and raise money. If that's the "why" of the campaign, I think it could use some tweaking. Thoughts for Daniele?
Before the year ends, I wanted to thank you. Thank you, readers, for all you have done to make the world a better place in 2007. I know from conversations with you from this blog just how much you have done - to end homelessness, clean up our environment, protect our lands, feed the hungry, shelter animals, comfort survivors of violence, stop the spread of HIV, and restore hope to the hopeless. Your commitment to your cause - and your effectiveness in promoting it - is a daily inspiration and a source of deep gratitude. I wish you all the best in your work in the New Year and always.
One of the best books I've ever read - and one I quote like crazy in my book - is Influence. I also love the Influence newsletter from the Arizona-based Influence team.
Today's edition asks the question, what do Mac users, Hillary Clinton and alcoholics have in common? Noah Goldstein, Ph. D., explains:
First-time Mac users have switched from IBM-compatible personal computers, longstanding members of Alcoholics Anonymous have turned their lives around by abstaining from alcohol, and Hillary Clinton switched political affiliations from Republican to Democrat over thirty years ago. In a sense, all three are converts of one form or another. But what can a convert do for us when it's important to persuade others to take our point of view, give us buy-in for our initiatives, or take a particular course of action?

Social scientists John Levine and Ronald Valle conducted a study to find out. In their study, they had participants listen to a persuasive message in which the speaker was clearly an outspoken critic of alcohol use. Whereas some participants learned that the speaker had abstained from alcohol his whole life, others learned that the speaker was formally a heavy drinker who quit drinking two years prior. The results of the study revealed that participants were far more persuaded by the speaker who was formally a heavy drinker than the lifelong teetotaler. Although there are several reasons why convert communicators are more persuasive, perhaps the most powerful is that they are simply viewed as more experienced in the domain of their conversion. It's this experience that leads audience members to view them as more of an expert authority on that topic.

This research suggests that when trying to convince others that your position is the right one, you should look for people who have converted to your way of thinking. For example, within an organization, this might mean that when trying to get employees to willingly adopt a new software system, you should ask others who have already adopted it to pitch the idea to more stubborn employees. Similarly, when attempting to get prospective clients to switch to your product from another company's, try to solicit testimonials from others who have made the same switch, and then convey these testimonials to your prospects.
This is a great insight. People listen to converts. I think converts are not only credible to an audience, they are also especially passionate and eloquent spokespeople.
So who are your converts? Could they speak for you? Any skeptical donors who have seen the light? Any beneficiaries who have done a 180? Find them, and give them a platform to talk about their conversion. People will listen.
About every 2-3 days, I get a phone call from someone starting a social network with a social conscience angle – a network for shopping for good, or for volunteering, or for donating, or for doing all of the above. Since I'm often asked for advice on this topic, I thought I'd share what I say.

It's a timely topic to cover because Network for Good, where I work, just formed a new partnership with one of these social networks for social good – change.org. We chose to partner with change.org because its founder, Ben Rattray, is very focused on the principles I'm sharing with you here. In fact, change.org has lived up to its name and undergone a lot of interesting change itself. Once a more generalized site for doing good, it's now increasingly focused on helping nonprofits use its social networking tools to connect to their donors in more personal and profound ways. Check out more on that here. Since we're both focused on helping you – nonprofits – connect to your supporters and motivate them to action (and donations), it made a lot of sense to make that happen together.

So here's some advice, before you start a social network for good – or join one:

1. Don't build to a concept, build to people. People don't look for a social network to join – they look for people like them. Networking technology is about NETWORKING – being amidst people like us – more than it's about the tools or technology. So don't build a network because you think you have a great concept – build a network because you have a real group of people that wants to spend time together, connecting.
2. Don't try to create a constituency, serve one. Related to my first point, focus on serving an audience rather than creating one. Start with a passionate constituency – even a small one – and help it grow with your tools. A great example of point #1 and #2 done well is kiva.org. They built their entire site around people – individual people on the other side of the earth who need loans to change their lives and people who want to help them achieve their dreams. All the tools are tailored to that relationship, and their community grows by the day because of this.
3. It's the cause, not the structure (or network) around it, that compels action. People give money because they feel moved to make a difference for a specific cause – because the cause is important to them, moves them, or matters to friends or family. It's that simple. I can tell you from experience, nearly no one comes to Network for Good to wander around looking for a cause. They don't Google "donate to charity." They are looking to do something about cancer or global warming or the hungry person they saw on their block. The relationship that matters is the one the donor has with their cause. So a good social network seeks to enhance that in every way possible. A bad social network gets in the way of it.
4. Communities are nice, but the most important relationship (and the deepest) is the one-on-one connections – the connections between the donor and the cause, the donor to their friend, etc. Focus on that in all you do with networking or any outreach at all. Beth Kanter is a good person to listen to—and emulate—when it comes to designing your outreach.
I'll leave Ben with the last word, and it's a good one: "Donors want a better giving experience, and social networking technology, properly used, can significantly improve this experience by making it more personal, by giving people a sense that they are a member of a community and not just a cash machine, and by enabling people to dramatically magnify their impact. Social networking will fail in the philanthropy space if it's seen as a vague end goal (as in, our goal is to build a big community of people who care), and should instead be seen as a tool to solve real problems – as in, our goal is to use social networking technology to address the impersonal nature of most solicitations, the sense from donors that their individual contributions have no significant impact, the need for nonprofits to have authentic voices spreading their message on their behalf rather than relying on inefficient and decreasingly effective direct mail prospecting, etc."
Well said.
Happy networking in 2008!
In our house, there is a trunk full of stuffed animals. I don't buy them, but my children periodically get them as gifts. We have too many, and the girls only play with a few. So every time I get the chance, I donate a handful of the better stock to charity or, if the stuffed animal sings or squawks something truly annoying, the trash can. But somehow, despite my downsizing, the number of animals remains constant. The trunk is always full. It's as if these creatures reproduce when I'm at the office each day, their fluffy offspring rapidly replenishing any depletion in their ranks.
The phenomenon is something I call the stuffed animal rule: No matter how hard you try to simplify and give yourself space—to breathe, to live, to think big—silly things always crowd back into your life. Especially this time of year. We try to keep focused on what's important, but it's so hard. Stuff gets in the way - fluffy, inconsequential stuff that takes up too much space.
That's why it's a challenge to get people's attention right now. To ask them to help your cause. They want to do good, they think of doing good, but then a flurry of things crowd their minds and the moment is gone. The trunk is full.
Think of your job this time of year as doing two things:
1. Not adding to the clutter. Don't crowd people with your message. Don't stuff in a lot of inconsequential detail that gets in the way of your point. Don't be yet another appeal jamming their inbox. Show great economy in expressing why someone should care and what you can achieve together.
2. Clearing out the clutter. Help people remember what's more important than the details distracting them from what matters most. Don't criticize their clutter. But cut through it with the amazing stories that remind us of what it is to be human. Help people get back in touch with what this season is really about. They'll thank you. And support you. And feel far better.
I'm excited to share the following news:
PARADE and The Case Foundation today announced the America's Giving Challenge to award $500,000 to charities in the U.S. and overseas. The program aims to show how anyone and everyone can have greater impact in their community and bring more support to the charities and causes they care about. Participants can choose to use a simple and fun Web 2.0 tool called a "charity badge" to promote their cause and help their charity get $50,000. Or they can simply give to a cause to help it qualify for a $1,000 award. The America's Giving Challenge runs from 3:00 p.m. EST on December 13, 2007 through 3:00 p.m. EST on January 31, 2008.
Go here to participate.
There are two easy ways to participate:
CHAMPION A CAUSE: Using fun and simple charity badges, individuals can get $50,000 for the cause they support. Eight Champions will be named based on the number of unique donations they have gathered for their charity through the Challenge.
GIVE TO A CAUSE: Simply donate to a favorite charity through the Challenge donation partners—Network for Good's Six Degrees site and GlobalGiving—and that charity could get $1,000. One hundred charities will each be awarded $1,000 based on the number of donations they receive through the Challenge.

Who Can Participate?
To "champion a cause," you must be 13 years of age or older and a legal resident of the United States.
To "give to a cause," all you need is the means to process a donation through one of the Challenge's two donation partners—Network for Good, typically for those giving to U.S.-based charities, or GlobalGiving, typically for those giving to international causes.
Thanks to the Case Foundation and Parade for this wonderful support to charities - and to Wired Fundraisers.
I am extremely happy to announced that my organization, Network for Good, has launched a new online learning center about all things marketing, messaging, fundraising and online outreach at http://www.Fundraising123.org This. free online resource center is designed to be a searchable, readable survival guide for the overwhelmed, overworked nonprofit.
We think there's not enough of this kind of information out there, so it's been a labor of love.
A few highlights:
* The Learning Center features 500+ articles categorized by the following topics: Fundraising, Social Networking, Website 101, Email 101, Donor Database, & Nonprofit Marketing.
* There's also a Training tab that is home to our popular Nonprofit 911 teleconference series.
* While some of the content you'll recognize from this blog or from Network for Good materials, we've got lots of other articles from the greatest minds in our field: from nonprofit professionals, coaches, trainers, bloggers, and consultants—great thinkers like Beth Kanter, Seth Godin, Mark Rovner, Jeff Brooks, Nedra Weinreich, Nancy Schwartz, Kivi Leroux, and so on.
If you'd like to contribute your own content to the Learning Center, please visit the site and click on the FAQ button at the bottom of the page.
Forget corporate savvy - here's a case of nonprofit savvy.
According to a new study cited by massnonprofits, we nonprofits are cutting edge when it comes to social media:
Charitable organizations are outpacing the business world in their use of social media, according to a study recently completed by The University of Massachusetts Dartmouth's Center for Marketing Research. According to the study, "America's largest charities are turning to the Internet in an effort to increase awareness of their missions and to help connect with their constituencies. While these organizations are known for their nonprofit status and their fundraising campaigns, they demonstrate an acute awareness of the importance of Web 2.0 strategies in meeting their objectives."
Wow, who knew?
Want to get started in social media? Here are two good places to start:
Network for Good's new resource on the topic
Expert Beth Kanter, who is the go-to guru on the topic
Hat tip to Erik at Orion for this story.
Three important things happened recently. Take note.
1. Sally Beatty of the Wall Street Journal says charities need to be more open and transparent. She says it feels good to give to charity, but "the warm feeling fades when we try to find out about charities' successes and failures." She says it's very hard to know who is doing effective work. The article makes three recommendations to improve the situation. Here's what she tells charities to do: 1) Provide more information online; 2) Adopt high standards of measuring efficiency; and 3) Adhere to those voluntary standards.
2. The Chronicle of Philanthropy did a story chronicling the work of GiveWell's Clear Fund project - which aims to rate charities on their effectiveness. Founder Holden Karnofsky found that to be very hard work, for the reasons Sally Beatty cites. GiveWell has a new report on charities saving lives in Africa - useful for figuring out who to support this holiday. Holden and his colleagues went through all the major causes of death and extreme debilitation that affect Africans more than they affect us and recommended the best. They estimate that their top-ranked charity saves lives for something around $1000 each - 3-4x as cost-effective as their second highest rated. Find out what charity is so great here. (Hint: It's one of my favorites and the one that opens my book!)
3. The Great Nonprofits site is getting nice traction in Pennsyvlania - enabling ratings of local charities. Yes, welcome to the world of customer reviews of charity - pretty fascinating stuff. Founder Perla Ni, who is an impressive innovator in our sector, likens it to Zagat's for charities.
If you read this blog regularly, you know I'm constantly harping on two things: first, connect with your audiences and what they care about. Answer the question, "why me?" for them. Second, for those audiences, answer the question, "what for?" What will the audience get for their donation? What will change? What will happen? (The other questions to always answer, by the way, are why now? and who says?)
I think "what for?" has never been more important. You must answer this question before, during and after people give.
Skepticism about marketing is at an all-time high. You can't just demonstrate need, you have to show results. If you don't do it yourself, then GiveWell or Great Nonprofits or Charity Navigator will be doing it anyway. So you have no choice but to share honest information on where the money goes. People give money out of emotion, but that doesn't mean they don't care where their dollars go after they give. The number one reason people quit supporting a nonprofit is how they were treated by that nonprofit - as in too many appeals, not enough thanks, and insufficient information on impact of their efforts. People give because it feels good but if nothing seems to happen, it starts feeling bad. This is a problem.
Open up or else. Open up about the difference you make and how you make it. Or else people may start closing their wallets.
There is a curious paradox: the more our lifestyle creates separateness, the more we crave connection.
We're always talking about how technology sets us apart from the world around us - iTunes in our ears, Blackberry (Crackberry) in our hand. But at the same time, we universally tend to use technology to seek connections - in our online communities, our Twittering, our emailing, our Facebooking - it's all about looking for bonds.
Don't forget that.
No matter what you do, what you say, or how you use technology it's not about the tool or the wires or the bells and whistles. It's about the bonds.
Don't ask, should we blog? Ask, is blogging a good way to connect with our audience? Don't ask, do we need a website redesign? Ask, can people find what they need when they come to us? Do they feel closer to us after they've come to our site?
My esteemed colleague Jocelyn Harmon of NPower here in DC recently did a presentation on marketing and communications in the connected age. You can check it out here. She reminds us of two things to remember online:
1. Be real. Speak the truth, in your own voice.
2. Flip the funnel. (Katya's note: That's Seth Godin's great term for surrendering your lonely megaphone and antiquated sale funnel and letting a thousand messengers bloom, in their own voices, to their own circles of influence)
In other words, be an authentic messenger and don't be the only messenger. Be an organization that connects to people on a very human level. And make it possible for people who love your organization to connect to the people they love to share your story. This is what it's all about.
While online tools seem oh-so-new, what makes them work could not be more ancient or old-school. What's truly innovative is using the Internet to more quickly and expansively fulfill our unending human need for connection. Paraphrasing Pasternak, what's powerful is what's shared.
This time of year, I spend too much time thinking about money - spending it, giving it, and getting people to donate it. Marketing right now in my mind is all about shopping, donating and fundraising.
But an interesting book called Taking Care of the People Who Matter Most by Sybil Stershic, who was kind enough to give me a copy when I saw her a few weeks ago, reminds me there's another truly important way to think about marketing other than spending and raising funds. And that is in terms of motivating and supporting our staff. They are the "People Who Matter Most."
Just as audience-focused approaches work magic in marketing and customer relations, they also do with our employees. In fact, as she writes in Taking Care of the People Who Matter Most, they are all intertwined, with "a direct link between employee satisfaction and customer satisfaction, and between customer satisfaction and improved financial performance." In other words, if we want money, we need to focus on our staff.
She likes to say, "Explain, Train and Refrain"—explain how people's jobs fit into the big picture and their role, train them to do great work and refrain from getting in their way.
Here are some marketing principles I think belong inside our office, not just in our outreach:
-Knowing and listening to our audience (not just donors, but the people we work with. We want to listen to what they say because it helps us understand how to motivate them—and to make them and us more effective)
-Being authentic: Not just spouting feel-good HR drivel about the value of employees but really valuing them
-Providing incentives: See Sybil's thought on that below
-Letting go a knee-jerk need to control our message: Just as we need to give our supporters the freedom to spread the word about us in their own language, we need to give employees the freedom to solve problems and serve customers/donors as they see fit. Look no further than United vs. Southwest or Macy's vs. Nordstrom for the difference this makes.
So what incentives does Sybil say work but don't cost money? Research shows there are three:
-Personal recognition for a job well done
-A written thank-you
-Public praise
So don't just thank your donors this holiday, thank the people around you.

Read how marketers answer that question in this week's Carnival.
I've been asked by blogger Nancy Schwartz what are my to three marketing to-dos in 2008. I really have one main to-do, which is to try to maintain a higher order of consciousness. By that I mean, being better attuned to what's going on for consumers as a whole so that my marketing efforts connect with their values. Focusing simply on getting people to give money or eat healthy or any other do-gooder agenda naturally pulls us into our narrow viewpoint. We then lose sight of creative opportunities to tap into people's minds and hearts.
In this spirit, I took an important Trendwatching list I read this week—Eight Important Consumer Trends for 2008 and put some thought into what they mean for marketers of good causes. Keeping this list in mind is Job One for my 2008 marketing agenda.
Here are eight consumer trends with nifty names that you should know.
1. STATUS SPHERES: "A variety of lifestyles, activities and persuasions, which can be mixed and matched by consumers looking for recognition from various crowds and scenes. Four Spheres are of particular interest to us.
First, the Transient Sphere—An obsession with the here and now, an ever-shorter satisfaction span, and a lust to collect as many experiences and stories as possible, is undermining the perceived value (and thus status) of fixed goods and services, says Trendwatching. That means you need to keep your communications more concise and compelling than ever and give people a steady stream of fascinating tidbits portioned for today's Media Snacker. Remember, everyone is a snacker in this day and age, and not just online. Who on earth has time for the equivalent of multi-course meals of information throughout the day? No one has time to read a tome on our topic, to sift through an overwrought appeal or to idly sit around and listen to us getting to the point. They may sit down for a four-course "meal" on occasion, but they are going to dine on something very important to them personally. And that something is not likely to be what we're dishing out.
Second, the Online Sphere: In an online world or virtual world, social status 2.0 is all about who you connect to and who wants to connect to you, tribal-style. It also encompasses status gained from the number of views for one's photos on Flickr, to the number of friends on Facebook, says Trendwatching. Since connections are precious, you want to find a way to insert your cause into those personal relationships. Read all about how to do that here.
Third, the Eco Sphere: A substantial subset of consumers is already bestowing recognition and praise on Prius drivers while scorning SUV owners, and this will only accelerate as even more design-minded and branding-savvy eco-firms push to the forefront in 2008, says Trendwatching. If you're an environmental cause, create a hall of fame or fabulous recognition system for your supporters and advocates. Green is the new black!
Four, the Giving Sphere: Gates, Bono and Buffett have made philanthropy a status symbol. Place special attention on the care and feeding of major-donor prospects.
2. PREMIUMIZATION: "With more wealth burning holes in (saturated and experienced) consumers' pockets than ever before, quick status fixes derived from premium products and premium experiences will continue in full force next year," says Trendwatching. With everything from premium laundry detergent to premium security lines at the airport, there's nothing that can't be upgraded. VIP Volunteer program, anyone?
3. SNACK CULTURE "represents the 'transient sphere' on steroids, catering to consumers' insatiable craving for instant gratification. SNACK CULTURE thus embodies the phenomenon of products, services and experiences becoming more temporary and transient; products that are being deconstructed in easier to digest, easier to afford bits, making it possible to collect even more experiences, as often as possible, in an even shorter timeframe," says Trendwatching. I cited this above, but don't forget that the long eNews may not be the way to go this year. Short, great, snacky stories about specific people are better. And be sure you have online giving - our research shows the #1 reason people like it is it's easy. Convenience is king.
4. ONLINE OXYGEN: "Control-craving consumers need online access as much as they need oxygen," says Trendwatching. That means you need to think more mobile than ever - online content and widgets so your content can be packed up to go online. I'd also recommend starting to build a mobile phone list because before too long, people will be doing a lot more with their phones - including giving. Some things to watch in particular online:
ECOMMERCE: "Never before have so many consumers been willing to overcome security threats, still shockingly bad (or boring) design, and delivery screwups. In other words, 2008 could be a goldmine for smart e-tailers, who, if they get their act together, could make billions and billions," says Trendwatching. That bad design point really applies to our sector, folks. Want to fix you site but have no money to do it? Learn how to here. A site that is easy to use and makes it simple to give is gold.
NETHOODS: "One thing to watch is social networks of any kind going local, if not hyperlocal. Neighborhoods. Streets. Buildings. Floors. Neighborhoods, streets and even apartment buildings will get their own internet and intranet sites: not just to promote the many qualities they have to offer their (prospective) inhabitants, but also to provide communal interaction and localized services," says Trendwatching. If you're a local, small organization this is GREAT news - connect to these neighborhood networks as a fantastic potential audience. For national organizations, segment your communications regionally so people feel connected to you by where they are, not just by what you do.
5. ECO-ICONIC: This means "eco-friendly goods and services sporting bold, iconic design and markers, that help their eco-conscious owners to visibly tout their eco-credentials to peers," says Trendwatching, and it's hot. As I hinted above under "Eco Spheres," I think there's a real opening for green groups to have fun in helping people show their support - and status - in visible and fun ways.
6. BRAND BUTLERS: "If consumers value the authentic, the practical, the exclusive, and they're also forever looking to make life more convenient, even save some time, then why persist in bombarding them with your mega-million dollar/euro/pound, one-way advertising campaigns? Think baby food or diaper brands opening a lounge area, including diaper-changing facilities and microwaves, for parents and their offspring at a major airport or in malls. Or a bank installing secure, high-tech lockers next to the beach, so beachgoers can safely store their belongings when going for a swim or walk," says Trendwatching. So what does this have to do with a nonprofit? How can you make your supporter's lives easier? We recently helped a nutrition program get the word out about their great, easy recipes. Imagine if they'd put them on cards in their office.
7. MAKE IT YOURSELF: "For years, we've been going on about GENERATION C, with the C mainly representing 'content'. In other words, digital creation. Pictures. Movies. Blogs. Music. It's a mainstream trend now, one that keeps giving, with millions of consumers uploading their creative endeavors online, and tens of millions of others enjoying the fruits of their creativity. User-generated content, at least in the online world, has grown from a teenage hobby to an almost equal contender to established entities in news, media, entertainment and craft," says Trendwatching. This is a GREAT trend of us—your beneficiaries and supporters ahve wonderful content and things to say - give them the space and means to do it. It's compelling and it saves you a lot of work of communication.
8. CROWD MINING: "When co-creating, co-funding, co-buying, co-designing, co-managing *anything* with 'crowds', the emphasis in 2008 will move from just getting the masses in, to mining those crowds for the rough and polished diamonds. How to do that? Shower them with love, respect and heaps of money, of course," says Trendwatching. Think of your supporters or potential helpers (design students, volunteers) as a crowd that can help you market your cause - then find the diamonds via contests and recognition for the best of their material.
More on applying these trends to your work is here.
Why buy a toxic Bob the Builder this holiday when you give the gift that not only does no harm - it does good.
The Good Card is a gift card for charity – where the recipient gets to donate to their charity of choice. That includes ANY charity with registration in the US – up to 1.7 million. Customers, clients, employees, friends and family all have their favorite charities and now you can give them the perfect gift – a donation to their favorite charity via Network for Good's secure giving system. That includes the charity fighting a disease that's touched their family, their alma mater—or even your organization!
And yes, I work for Network for Good, so this is product placement.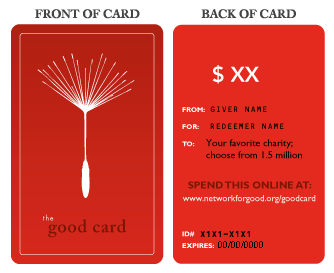 How it Works
§ At www.networkforgood.org/goodcard, you can buy a card to be mailed or choose an electronic gift card to be sent
§ Your recipient receives the cards via mail or email (or you can send it to yourself if you want to give it in person!)
§ The Good Card recipient comes to Network for Good's website, chooses a charity and then enters the amount to donate using the code on their Good Card/email
§ Network for Good sends the charities the donation
§ Cost per card is $5. 100% of the card value goes direct to charity.