Thu, November 29 2007
Filed under: Fun stuff •
Why buy a toxic Bob the Builder this holiday when you give the gift that not only does no harm - it does good.
The Good Card is a gift card for charity – where the recipient gets to donate to their charity of choice. That includes ANY charity with registration in the US – up to 1.7 million. Customers, clients, employees, friends and family all have their favorite charities and now you can give them the perfect gift – a donation to their favorite charity via Network for Good's secure giving system. That includes the charity fighting a disease that's touched their family, their alma mater—or even your organization!
And yes, I work for Network for Good, so this is product placement.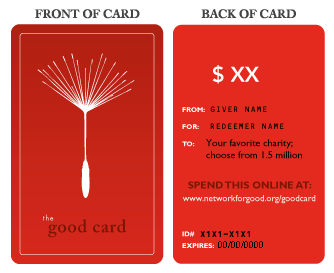 How it Works
§ At www.networkforgood.org/goodcard, you can buy a card to be mailed or choose an electronic gift card to be sent
§ Your recipient receives the cards via mail or email (or you can send it to yourself if you want to give it in person!)
§ The Good Card recipient comes to Network for Good's website, chooses a charity and then enters the amount to donate using the code on their Good Card/email
§ Network for Good sends the charities the donation
§ Cost per card is $5. 100% of the card value goes direct to charity.
Tue, November 27 2007
Filed under: Marketing essentials •
Dove has made clever ad campaigns attacking the beauty industry and enhancing the self-esteem of girls and women.
Here's the problem: Dove owner Unilever IS the beauty industry. As AdAge reported today, this moved an ad exec to point out the hypocrisy in his own version of the above spot, interspersing the girl's face with an onslaught of… sexed up women from ads from Axe - also made by Unilever.
AdAge reports:
"The Axe campaign is a spoof of 'mating game' and men's desire to get noticed by women and not meant to be taken literally," the company said in a statement. "Unilever is a large, global company with many brands in its portfolio. Each brand's efforts are tailored to reflect the unique interests and needs of its audience."

That, however, is the sort of distinction social media's transparency renders difficult, said Jim Nail, chief marketing and strategy officer for brand-monitoring firm Cymfony. "Only one in 100 people may know that Unilever owns both brands," he said. "But that one person is likely to be participating in social media." And when that one person tells the other 99, it can change the nature of the conversation fast, he said.
Unilever is trying to be two things. One thing that tries to scream good intentions—the Dove campaign—and another that does not, despite feeble claims that Axe ads are ironic. When you try to pull this off, it only takes a couple of people with access to a computer to find and broadcast the hypocrisy.
What's the lesson? Don't think you can be all things to all people and still maintain a strong and authentic identity. It reminds me of the time a friend's organization, which targeted teens, started a section of their website for parents—on the teens page. They lost their identity in the eyes of their core audience. Politicians also try this trick—they attack the Washington establishment as outsiders even if they've long been a part of it. Unilever is doing the same - taking on the establishment that it created.
Being disingenuous is very dangerous in this day and age.
I'm always preaching one message, one audience. Different audiences have different values. So you'll be talking about your organization in different ways to different people. And you should. What interests one group about your work does not necessarily appeal to another. That's seeking understanding.
What you should
not
do is to try to be different organizations to different people. You can't attack, hide or disown parts of your own work in order to enhance your appeal to someone. That's seeking trouble. Just ask the Dove that got whacked by the Axe.
Tue, November 27 2007
Filed under: Fundraising essentials •
Some weeks ago, after a speech I gave in North Carolina, Robyn Fehrman came up to me and told me about how she spends her free time. By day, Robyn is a program officer at the Triangle Community Foundation. But in her spare time, she volunteers to raise awareness about homelessness in Durham, NC and raise funds for Genesis Home (a transitional shelter for homeless families with children) through the Tri to End Homelessness campaign. For ten months, she's been tirelessly raising thousands of dollars with her sister for the cause.
I'm thankful there are people like Robyn in the world.
Here's her story:
As triathletes and community advocates, my sister Rachel Dirito and I dedicated our 2007 triathlon season to supporting Genesis Home and speaking out. We documented our year on our blog and raised nearly $6,000 - $4,000 of which was matched by a local private foundation. In March, we specifically mentioned Network for Good's 6 Degrees program in our post.
Since I'm a big advocate of getting people like Robyn behind your cause, I asked her to share some advice about how she became an effective superactivist. Here's her story—and her advice. Wouldn't you know, it's the same basic stuff that works so well. Keep these basics in mind as you head into the final stretch of fundraising season 2007. We forget them too often!
Robyn says:
We found success in the old stand-bys of (1) Asking for money! (2) Thanking donors promptly with handwritten thank you notes and (3) Letting donors know how their money has been used.

We also communicated a lot. We recommend that you:
1. Use Many Channels: Create buzz by telling your story through multiple "genres." The Tri to End Homelessness campaign was anchored at our BLOG; however, we also EMAILED friends and family, wore BUTTONS that said "Ask Me About Genesis Home" during training runs/ rides and at races throughout the year, wrote a story for Genesis Home's NEWSLETTER, met IN PERSON with folks, and sent in stories to LOCAL NEWSPAPERS & MAGAZINES.

2. Help folks find a personal connection to your issue. For many folks, homelessness is something they would rather just not think about or something that they have a hard time connecting with. We became that connection through telling our own personal stories about why this issue was important to us.

3. Update folks about your goals. Having a blog helped us stay in touch with our donors/ audience and allowed us to regularly update them on both our fundraising and triathlon goals. These regular updates helped to cultivate ongoing connection.
So listen to Robyn - don't forget to ask, thank and show. And communicate often, in many ways.
In honor of her cause, I'm posting this video:
Mon, November 19 2007
Filed under: Marketing essentials •
This is a great photo from the Dogwood Alliance.
Here's the story behind it. During the MarketingProfs Book Club, I posed this question to all the savvy marketers in the club:
One of the points I made in the book is that good marketers seek open-minded moments for delivering their message—moments when people are in a time, place or state of mind when our message is most relevant and attractive. Nonprofits, because of their limited budgets, can make their promotion dollars go further if they spend them on open-minded moments. Better to concentrate and inundate with a message than to "spray and pray."

So here's my question. It seems this holiday, we might have some kind of open-minded moment for charities that protect our health, products and environment. Aquadots, toxic Barbies, Bay Area oil spills and global warming are prompting consumers to think more consciously about how they spend their money in the store. How can charities also gain attention at a time like this?
I got a great response from Scot from the Dogwood Alliance:
An example from our organization during the holiday season… We are currently running a campaign to tackle the packaging problem. The average American throws out 300 lbs of packaging per year. We our wasting our natural resources and degrading our environment to make packaging that is not even an integral part of the actual product.

So this holiday season, we are running a contest asking people to submit photos of over-packaging during the holidays. We will create a slide show of the photos that we post on line and ask our audience to vote on the best ones.

For us, this is a great way to raise awareness about an important issue, tap into the holidays and have fun… a win-win-win combo (we hope!).
The above picture is last year's winner. And it's a winning example of using open-minded moments.
This holiday, if your organization has anything to do with safety, health or the environment, tap into consumer and media attention to these issues with some timely tie-ins. As I like to say, it's easier to attach your cause to something that has buzz rather than trying to generate buzz for your cause.
Fri, November 16 2007
Filed under: Fundraising essentials •
If you're a procrastinator and are only just revving up your online fundraising, don't worry. The best is yet to come! Most people do their online giving at the end of December, so you still have time for success.
I'd like to point you to the Procrastinator's Guide to Year-End Fundraising by Sea Change Strategies and Care2. You should definitely read the whole thing, but in the meantime, here are their ten steps to better online fundraising, PLUS my own three additions. What I love about the list from Sea Change is that it doesn't just tell you how to get a gift - it shows you how to keep the donor in a lasting relationship with you.
1. Inspire your donors. Re-connect them with the passion and vision that inspired them to give in the first place.
2. Blaze trails to your donate page. Make it easy for donors to give by making it easy to find your site and your Donate button.
3. Optimize your donate form. Make it short, simple, easy, safe and inspiring.
4. Test drive your online donation process. Sit down a few friends and watch them try to give. Learn. Fix problems.
5. Create a "Why Donate" page that makes a case for why someone should care - and explains what happens when someone gives. Endorsements and ratings are good.
6. Thank your donor at least three times - when they complete a donation, when they get your email receipt and when they get your full thank-you via email a few days later.
7. Provide a warm welcome - an orientation email is a nice idea!
8. Launch a cultivation plan. Re-inspire your donors monthly and listen to waht they say. Build a relationship through conversation, not appeals.
9. Measure and test throughout the year.
10. Avoid procrastinating next year! Have a plan. (Yeah, right.)
Katya's three bonus tips:
Last night, I asked a group of folks in the MarketingProfs Book Club a question: When is the last time you gave? The answers revealed three important themes to include in your fundraising thinking:
1. People want vivid examples of how their donations will be used.

So if your audience has given before, tell them all the great things they've done - then all the wonderful additional things more support will bring.

As one MarketingProf member pointed out, "I give money regularly to groups where I have been able to see what they accomplish. I'm not impressed by marketing appeals, what interests me is being able to see the impact in action."

2. Emotion motivates. People are more inclined to give if the cause is local or if they know the person asking for help.

This holiday, ask some of your biggest supporters to invite their friends and family to support you. The passion they feel for your cause is incredibly compelling to their circles of influence.

Bloggers may be a good target. Says one MarketingProf member: "One of the things that I enjoy about blogging is that as the readership and influence of my blog grows, I have a greater ability to help promote ideas and causes. I've noticed that many of the blogs I read also make a point to promote their favorite causes and charities from time to time. This of course costs us nothing, but I think it greatly benefits charities and causes, many of which aren't very social-media savvy."

3. Trust is sacred. Be honest and transparent about your programs, your spending, your impact—everything. As SeaChange advises,

show exactly where the money goes and what the donor's investment will do. And then report back on that investment, again and again

.