Thu, December 06 2007
Filed under: Social Media •
There is a curious paradox: the more our lifestyle creates separateness, the more we crave connection.
We're always talking about how technology sets us apart from the world around us - iTunes in our ears, Blackberry (Crackberry) in our hand. But at the same time, we universally tend to use technology to seek connections - in our online communities, our Twittering, our emailing, our Facebooking - it's all about looking for bonds.
Don't forget that.
No matter what you do, what you say, or how you use technology it's not about the tool or the wires or the bells and whistles. It's about the bonds.
Don't ask, should we blog? Ask, is blogging a good way to connect with our audience? Don't ask, do we need a website redesign? Ask, can people find what they need when they come to us? Do they feel closer to us after they've come to our site?
My esteemed colleague Jocelyn Harmon of NPower here in DC recently did a presentation on marketing and communications in the connected age. You can check it out here. She reminds us of two things to remember online:
1. Be real. Speak the truth, in your own voice.
2. Flip the funnel. (Katya's note: That's Seth Godin's great term for surrendering your lonely megaphone and antiquated sale funnel and letting a thousand messengers bloom, in their own voices, to their own circles of influence)
In other words, be an authentic messenger and don't be the only messenger. Be an organization that connects to people on a very human level. And make it possible for people who love your organization to connect to the people they love to share your story. This is what it's all about.
While online tools seem oh-so-new, what makes them work could not be more ancient or old-school. What's truly innovative is using the Internet to more quickly and expansively fulfill our unending human need for connection. Paraphrasing Pasternak, what's powerful is what's shared.
Wed, December 05 2007
Filed under: Nonprofit leadership •
This time of year, I spend too much time thinking about money - spending it, giving it, and getting people to donate it. Marketing right now in my mind is all about shopping, donating and fundraising.
But an interesting book called Taking Care of the People Who Matter Most by Sybil Stershic, who was kind enough to give me a copy when I saw her a few weeks ago, reminds me there's another truly important way to think about marketing other than spending and raising funds. And that is in terms of motivating and supporting our staff. They are the "People Who Matter Most."
Just as audience-focused approaches work magic in marketing and customer relations, they also do with our employees. In fact, as she writes in Taking Care of the People Who Matter Most, they are all intertwined, with "a direct link between employee satisfaction and customer satisfaction, and between customer satisfaction and improved financial performance." In other words, if we want money, we need to focus on our staff.
She likes to say, "Explain, Train and Refrain"—explain how people's jobs fit into the big picture and their role, train them to do great work and refrain from getting in their way.
Here are some marketing principles I think belong inside our office, not just in our outreach:
-Knowing and listening to our audience (not just donors, but the people we work with. We want to listen to what they say because it helps us understand how to motivate them—and to make them and us more effective)
-Being authentic: Not just spouting feel-good HR drivel about the value of employees but really valuing them
-Providing incentives: See Sybil's thought on that below
-Letting go a knee-jerk need to control our message: Just as we need to give our supporters the freedom to spread the word about us in their own language, we need to give employees the freedom to solve problems and serve customers/donors as they see fit. Look no further than United vs. Southwest or Macy's vs. Nordstrom for the difference this makes.
So what incentives does Sybil say work but don't cost money? Research shows there are three:
-Personal recognition for a job well done
-A written thank-you
-Public praise
So don't just thank your donors this holiday, thank the people around you.
Mon, December 03 2007
Filed under: Marketing essentials •

Read how marketers answer that question in this week's Carnival.
Thu, November 29 2007
Filed under: Marketing essentials •
I've been asked by blogger Nancy Schwartz what are my to three marketing to-dos in 2008. I really have one main to-do, which is to try to maintain a higher order of consciousness. By that I mean, being better attuned to what's going on for consumers as a whole so that my marketing efforts connect with their values. Focusing simply on getting people to give money or eat healthy or any other do-gooder agenda naturally pulls us into our narrow viewpoint. We then lose sight of creative opportunities to tap into people's minds and hearts.
In this spirit, I took an important Trendwatching list I read this week—Eight Important Consumer Trends for 2008 and put some thought into what they mean for marketers of good causes. Keeping this list in mind is Job One for my 2008 marketing agenda.
Here are eight consumer trends with nifty names that you should know.
1. STATUS SPHERES: "A variety of lifestyles, activities and persuasions, which can be mixed and matched by consumers looking for recognition from various crowds and scenes. Four Spheres are of particular interest to us.
First, the Transient Sphere—An obsession with the here and now, an ever-shorter satisfaction span, and a lust to collect as many experiences and stories as possible, is undermining the perceived value (and thus status) of fixed goods and services, says Trendwatching. That means you need to keep your communications more concise and compelling than ever and give people a steady stream of fascinating tidbits portioned for today's Media Snacker. Remember, everyone is a snacker in this day and age, and not just online. Who on earth has time for the equivalent of multi-course meals of information throughout the day? No one has time to read a tome on our topic, to sift through an overwrought appeal or to idly sit around and listen to us getting to the point. They may sit down for a four-course "meal" on occasion, but they are going to dine on something very important to them personally. And that something is not likely to be what we're dishing out.
Second, the Online Sphere: In an online world or virtual world, social status 2.0 is all about who you connect to and who wants to connect to you, tribal-style. It also encompasses status gained from the number of views for one's photos on Flickr, to the number of friends on Facebook, says Trendwatching. Since connections are precious, you want to find a way to insert your cause into those personal relationships. Read all about how to do that here.
Third, the Eco Sphere: A substantial subset of consumers is already bestowing recognition and praise on Prius drivers while scorning SUV owners, and this will only accelerate as even more design-minded and branding-savvy eco-firms push to the forefront in 2008, says Trendwatching. If you're an environmental cause, create a hall of fame or fabulous recognition system for your supporters and advocates. Green is the new black!
Four, the Giving Sphere: Gates, Bono and Buffett have made philanthropy a status symbol. Place special attention on the care and feeding of major-donor prospects.
2. PREMIUMIZATION: "With more wealth burning holes in (saturated and experienced) consumers' pockets than ever before, quick status fixes derived from premium products and premium experiences will continue in full force next year," says Trendwatching. With everything from premium laundry detergent to premium security lines at the airport, there's nothing that can't be upgraded. VIP Volunteer program, anyone?
3. SNACK CULTURE "represents the 'transient sphere' on steroids, catering to consumers' insatiable craving for instant gratification. SNACK CULTURE thus embodies the phenomenon of products, services and experiences becoming more temporary and transient; products that are being deconstructed in easier to digest, easier to afford bits, making it possible to collect even more experiences, as often as possible, in an even shorter timeframe," says Trendwatching. I cited this above, but don't forget that the long eNews may not be the way to go this year. Short, great, snacky stories about specific people are better. And be sure you have online giving - our research shows the #1 reason people like it is it's easy. Convenience is king.
4. ONLINE OXYGEN: "Control-craving consumers need online access as much as they need oxygen," says Trendwatching. That means you need to think more mobile than ever - online content and widgets so your content can be packed up to go online. I'd also recommend starting to build a mobile phone list because before too long, people will be doing a lot more with their phones - including giving. Some things to watch in particular online:
ECOMMERCE: "Never before have so many consumers been willing to overcome security threats, still shockingly bad (or boring) design, and delivery screwups. In other words, 2008 could be a goldmine for smart e-tailers, who, if they get their act together, could make billions and billions," says Trendwatching. That bad design point really applies to our sector, folks. Want to fix you site but have no money to do it? Learn how to here. A site that is easy to use and makes it simple to give is gold.
NETHOODS: "One thing to watch is social networks of any kind going local, if not hyperlocal. Neighborhoods. Streets. Buildings. Floors. Neighborhoods, streets and even apartment buildings will get their own internet and intranet sites: not just to promote the many qualities they have to offer their (prospective) inhabitants, but also to provide communal interaction and localized services," says Trendwatching. If you're a local, small organization this is GREAT news - connect to these neighborhood networks as a fantastic potential audience. For national organizations, segment your communications regionally so people feel connected to you by where they are, not just by what you do.
5. ECO-ICONIC: This means "eco-friendly goods and services sporting bold, iconic design and markers, that help their eco-conscious owners to visibly tout their eco-credentials to peers," says Trendwatching, and it's hot. As I hinted above under "Eco Spheres," I think there's a real opening for green groups to have fun in helping people show their support - and status - in visible and fun ways.
6. BRAND BUTLERS: "If consumers value the authentic, the practical, the exclusive, and they're also forever looking to make life more convenient, even save some time, then why persist in bombarding them with your mega-million dollar/euro/pound, one-way advertising campaigns? Think baby food or diaper brands opening a lounge area, including diaper-changing facilities and microwaves, for parents and their offspring at a major airport or in malls. Or a bank installing secure, high-tech lockers next to the beach, so beachgoers can safely store their belongings when going for a swim or walk," says Trendwatching. So what does this have to do with a nonprofit? How can you make your supporter's lives easier? We recently helped a nutrition program get the word out about their great, easy recipes. Imagine if they'd put them on cards in their office.
7. MAKE IT YOURSELF: "For years, we've been going on about GENERATION C, with the C mainly representing 'content'. In other words, digital creation. Pictures. Movies. Blogs. Music. It's a mainstream trend now, one that keeps giving, with millions of consumers uploading their creative endeavors online, and tens of millions of others enjoying the fruits of their creativity. User-generated content, at least in the online world, has grown from a teenage hobby to an almost equal contender to established entities in news, media, entertainment and craft," says Trendwatching. This is a GREAT trend of us—your beneficiaries and supporters ahve wonderful content and things to say - give them the space and means to do it. It's compelling and it saves you a lot of work of communication.
8. CROWD MINING: "When co-creating, co-funding, co-buying, co-designing, co-managing *anything* with 'crowds', the emphasis in 2008 will move from just getting the masses in, to mining those crowds for the rough and polished diamonds. How to do that? Shower them with love, respect and heaps of money, of course," says Trendwatching. Think of your supporters or potential helpers (design students, volunteers) as a crowd that can help you market your cause - then find the diamonds via contests and recognition for the best of their material.
More on applying these trends to your work is here.
Thu, November 29 2007
Filed under: Fun stuff •
Why buy a toxic Bob the Builder this holiday when you give the gift that not only does no harm - it does good.
The Good Card is a gift card for charity – where the recipient gets to donate to their charity of choice. That includes ANY charity with registration in the US – up to 1.7 million. Customers, clients, employees, friends and family all have their favorite charities and now you can give them the perfect gift – a donation to their favorite charity via Network for Good's secure giving system. That includes the charity fighting a disease that's touched their family, their alma mater—or even your organization!
And yes, I work for Network for Good, so this is product placement.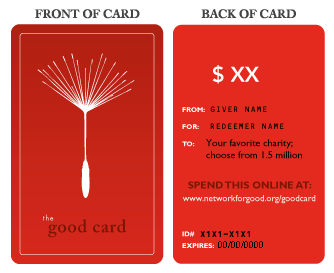 How it Works
§ At www.networkforgood.org/goodcard, you can buy a card to be mailed or choose an electronic gift card to be sent
§ Your recipient receives the cards via mail or email (or you can send it to yourself if you want to give it in person!)
§ The Good Card recipient comes to Network for Good's website, chooses a charity and then enters the amount to donate using the code on their Good Card/email
§ Network for Good sends the charities the donation
§ Cost per card is $5. 100% of the card value goes direct to charity.